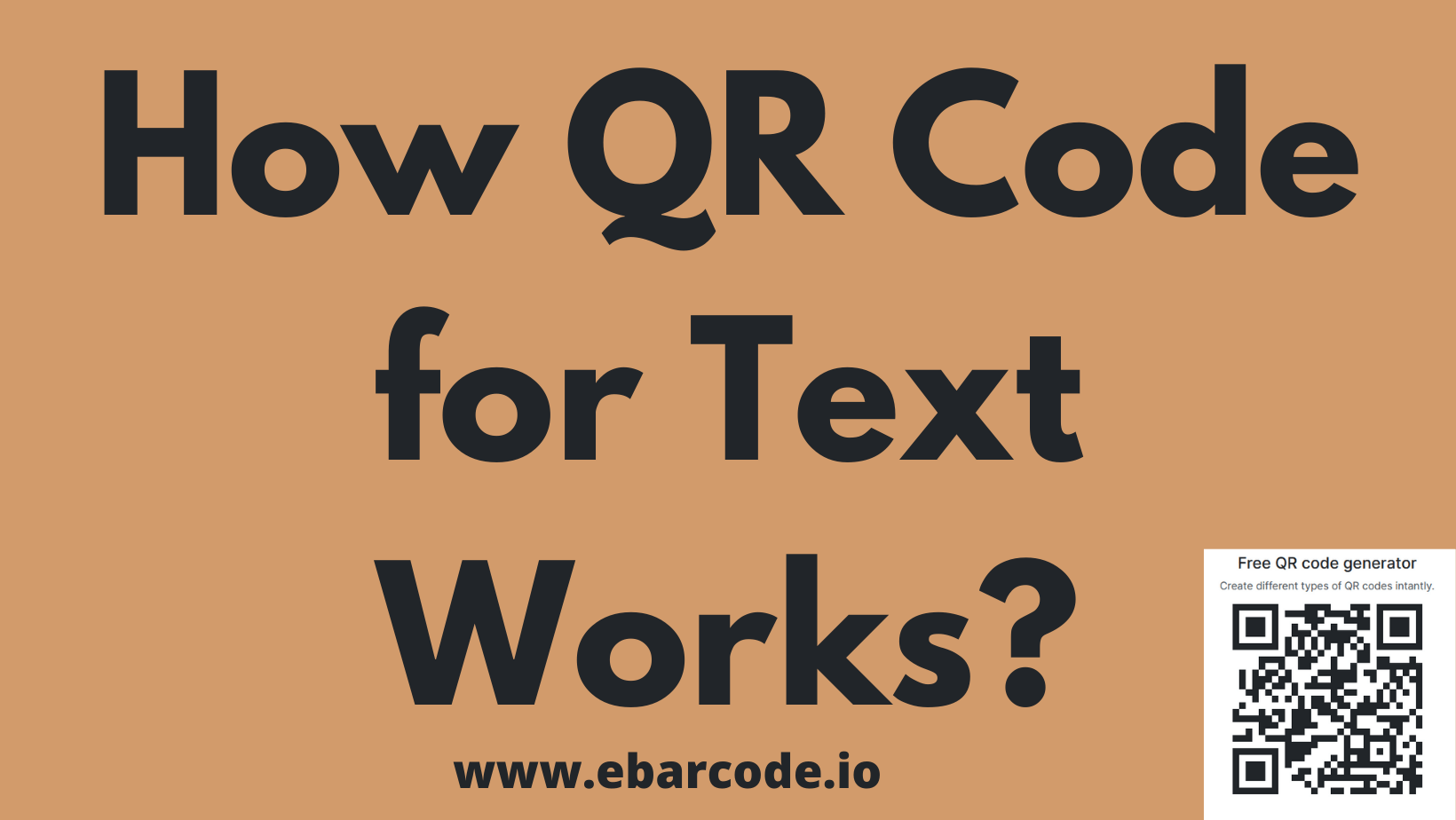 QR Code for Text
What is a TEXT QR Code Generator?
QR or Quick Response Code has been in the market for a long time now. The majority of people are getting benefits of this technology for their personal and business purposes. However, the only change in these codes is that it's now easy and accessible for you to create them.
If we talk about the Text QR Code Generator, it's a tool that helps you create a QR Code of a Text depending upon your specific needs and desires. For example, the Text format can be in the form of special characters, numbers, and words. In other words, there are no specific requirements that come in between to create such types of codes for yourself. Apart from that, the Text QR Codes don't require internet connections for access. Therefore, it's accessible for you without any hurdles at all.
What is the Role of Text QR Codes?
You can consider it in a way like the QR code is generated to promote any business while selling the product. You have to paste the QR Code with the product and ask the customer to scan it. When the customer scans it, they will easily get to know about the reasons for its usage. Also, it will efficiently fulfill your demands as well.
Moreover, the QR Code Generations of Text can be used to provide any security key or serial to the user who has purchased and Technology or service from a company. To access that, it would be good to maintain privacy and transfer the Key or Serial in a QR Code and then paste it along with the service or product.
In other words, the primary uses of QR Code Generator for Text depend upon the specific needs and demands you consider in your mind. It's not like the role of these QR codes will remain to an extent point. You have plenty of options to make it as per yourself.
Ways to Achieve Marketing Strategies with the help of TEXT QR Code:
Many business owners and service providers are making good use of the Text QR Codes for marketing. Hence, you can do the same by providing an adequate solution to your customer. In return, you would easily attain the best marketing strategies for yourself.
Increase the Customers List:
You would have running a business where it's mandatory to keep a hefty amount of customers in contact for the promotional and selling perspectives. For that, you can quickly increase the customer's list with the help of creating a QR code that will be set up on the idea of creating keywords for the numbers.
Whenever a Customer scans the Text QR Code, they will receive a message that will contain all of the information to take action. It's quite a hard tactic to increase the list, but the possibility of getting better results is evident for you.
Better customer support:
You would have run a business; therefore, you may do your business marketing with the help of Fliers, Brouchers, or Business cards. At some point, you have to distribute the business cards for free to the customers. A good idea generates a TEXT QR Code and pastes it onto the Business card. Of course, the code has to be with a message that can provide Customer support to anyone who scans it. Meanwhile, you can do the same for Fliers and Brochures.
Whenever a person scans it, they will get a message with something intended to help them relate to the product or service. Therefore, it would be a professional and adequate way to perform it for higher outcomes.
Collect the Information:
You might be running a business related to the Food industry. For example, it might be a restaurant or a coffee shop. Hence, you want to promote future deals to the user who visits your restaurant or café. You can use this tactic to generate a message in Text Form and transform it into a QR Code. Later, paste the QR Code to the bills, Coffee Cup.
Meanwhile, mention something like scan this QR Code to enter your information and knowledge about the Future Deals. In this way, the customer's data will come to you, and you can later use it to promote the deals. So that, as many people would come back to the restaurant or Coffee shop to buy it from you.
For Reservation purposes:
Whether you are running a Restaurant or Hotel, people who want to come to the place might need to reservations. In that case, you can easily Put the QR Code into the Menu option or the details of the package of your Hotel Page so that the Person can scan the code and make their reservations on the details provided in the QR Code.
How to Use TEXT QR Code Generator?
You have first to enter Ebarcode.io into the Google Search bar. Then, you can quickly get into the official website; on the home page, you will see the TEXT option available. Now, all you need is to enter the details mentioned on the Screen for you. After putting the data, click on the Generate QR Button in blue color. Within microseconds, you will see that the QR Code generates for you on the right-hand side. Now, all you need is to click on the Download or Embed to website option.
Why Choose Ebarcode.io to generate a Text QR Code?
Many platforms are already available on the Internet for you to Generate Text QR codes. But why would you need to use EbarCode.io? That's something that comes into your mind. The answer to this question is that the platform has been designed, developed, and run by Jahasoft.pk. In general, Jahasoft is a well-known Software house that is running by Mr. Jahanzaib Khan. By profession, he is also a Software Expert who has established this Company and provides services to many businesses in Pakistan and overseas. The company is registered with the higher authorities of Pakistan, including the International authorities. Therefore, everything you will perform in Ebarcode.io will give you a sense of reliability and better services.
The platform has been developed by the expert's team members of Jahasoft.pk. All of them are working tirelessly to provide you the highest amount of satisfaction. Meanwhile, advanced technologies are used to create this platform that gives better signs of your data to remain encrypted, and no third party would ever use it for the wrong purposes.